"A truly extraordinary convening of people who have real influence on the food system … and who rarely (if ever) come together to chart the way forward
to greater sustainability."
Professor Tom Tomich
Founding Director of the Agricultural Sustainability Institute and inaugural holder of the WK Kellogg Endowed Chair in Sustainable Food Systems at the University of California, Davis
What is food system impact valuation?
Impact valuation in the food system means accounting for the true costs and benefits of food system activities beyond their financial value. Despite being a highly efficient and valuable sector, the food industry as a whole creates negative societal, environmental and health impacts or externalities. These are not costed into the financial value of food.
When these externalities are valued and internalised, they can enable fundamental change.
Valuations align the market dynamics of food and agriculture toward the social and human wellbeing targets of food system transformation.
Internalising costs through improved products and practices, information, and intervention can lead to a significant contribution to food system transformation and be a significant opportunity for leading companies.
How does this approach create change?
Measuring and understanding the true cost of our food creates opportunities – not only to mitigate the risks to society but also to help businesses future-proof their strategy.
With no agreed standards for impact reporting, it is challenging for businesses to clarify their non-financial position with regards to the competition. Additionally, the economic cost of degradation to natural, social and human capital is often borne by those who derive least benefit from the original transaction.
By measuring the real cost of our food and creating accountability for both positive and negative impacts, we create opportunities to bring about the change needed in the food system.
Social costs of obesity, malnutrition, food insecurity and others associated to the food system, like the social cost of carbon, are central to economic food system policy.
FoodSIVI Transformation Cycle of Food System Science, Valuation and Users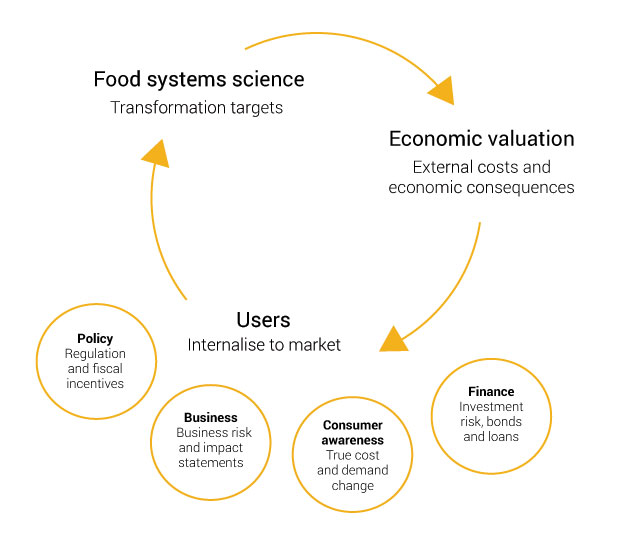 Food system science indicates a loss of economic value; it also sets scientific targets, for example the targets of 2 or 1.5 degrees set by climate scientists. Through valuation we can account for the value loss that is presently not costed into the economic system; this valuation also informs the internalisation, helping us move towards targets
By having agreed and credible changes in value, the economic system is re-formed around the value change. This process repeats itself until an optimal level is reached. At this point, the economic trajectory of most value becomes the impact neutral (or sustainable) trajectory.
The benefits of impact valuation
Benefits for businesses
Clarify your non-financial position for investors
Move towards an impact-neutral position
Future-proof your strategy/Manage risk
Understand today's hidden costs to see tomorrow's opportunities
Benefits for civil society
Achieve desired societal outcomes
Greater clarity on responsibility
Benefits for government
Helps tradeoff analysis in policy formulation
Helps decisions around pubic procurement of food
FoodSIVI is an important initiative that is providing a forum for critical evidence on how economics and food systems science can transform food systems. Not an easy task, but one in which FoodSIVI is bringing the best actors together to provide solutions.
Dr Jessica Fanzo, Bloomberg Distinguished Associate Professor of Global Food & Agricultural Policy and Ethics at the Nitze School of Advanced International Studies (SAIS), the Berman Institute of Bioethics, and the Department of International Health of the Bloomberg School of Public Health at Johns Hopkins University
FoodSIVI Funding Partners