FoodSIVI aims to be a nexus for advocacy, networks, research on methods and projects for piloting uses in impact valuation.
We bring together groups from three key areas:
Food system science – to set food system transformation targets through research and understand impact pathways
Economics – to determine the economic consequences and external cost of impacts from the food system
Users – those who internalise into the market the external costs, leading to movement to transformation targets (businesses, financers, government, civil society)
FoodSIVI Transformation Cycle of Food System Science,
Valuation, and Users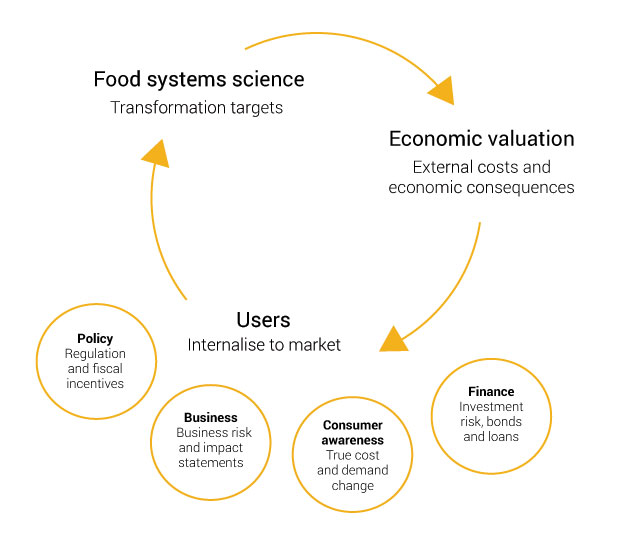 FoodSIVI Transformation Cycle of Food System Science, Valuation, and Users
The Oxford FoodSIVI Meetings are an excellent opportunity to network and learn from peers from academia, business and policy arenas
Matthew Watkins, Manager, Redefining Value, WBCSD
Partner with us
Partners shape the direction of FoodSIVI meetings, research and projects through its advisory board and being part of the core network. Get in touch to partner with us.
Register for a FoodSIVI webinar
FoodSIVI is running a series of webinars between September 2020 and October 2021. See the Events page for more details.
Sign up to be notified about future events.
Attend a FoodSIVI Meeting
Due to COVID-19, the next Oxford Meeting has been postponed until further notice. Sign up to the newsletter be notified about future events.
Collaborate on a project
We conduct research on food system impact valuation methods and how impact valuation can contribute to food system transformation. We also consider research commissions and secondments. Find out more.
Stay connected
FoodSIVI works with other impact valuation and true cost accounting initiatives to achieve food system transformation through internalisation of the food system's environmental, social and health external costs. Connect to our news feed (under development) to stay informed on food system impact valuation news and events.
The Oxford Meeting on Food System Impact Valuation was a highly recommendable and interactive experience, providing an excellent opportunity to get up to speed with cutting edge developments in the field and build relationships with a broad range of experts.
Alison Midgley
Sustainable Finance Specialist, WWF